Wintermeeting from 12 till 15 February 2005
the goals of this meeting are:
The Wob_marley collective from Linz Austria will provide the infrastructure for this meeting which was decided in Beograd Serbia at the last European Conference 2004.
If you want to take part please fill out the form below.
what we will provide:
please
contacts
Subscribe form. (NOTE: FORM IS DISABLED!!!)
How to come to linz:
How to come to the meeting once you arrive in linz:
The place where the infodesk will be is called stadtwerkstatt. It's a cultural center and the adress is kirchengasse 4.
When you arrive at the main station take the tramway 1, 2 or 3 (direction universitšt or bergbahnhof) and get off at the station Rudolfstrasse. From there on watch for the signs! When u get off the tramway turn in the direction of the river and move down in the underground crossing. Take a left and the next exit right. You should be on the busstation now. From there on walk towards the river and take the stairs to your left which are going under the building. The second house on your left is the Stadtwerkstadt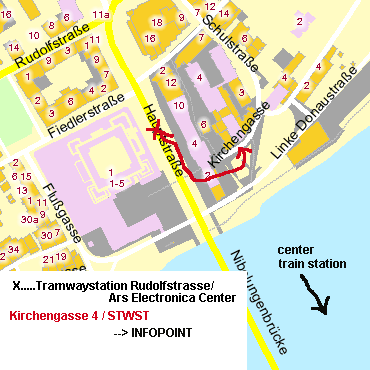 When you arrive by airplane take the bus to the central station and do as explained above.