PG
A

European conference chat

The PGA chat is a digital and open communication tool for the preparation of the coming PGA conference. It is a way to exchange ideas and information about the conference, sometimes it is even used to have small meetings.
How does it work?
1) Go to the web site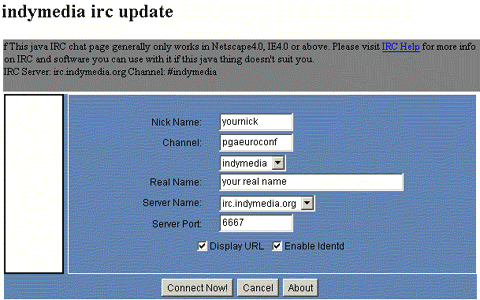 2) use your favorite IRC program
Enter the following commands.
/nick yournick
/server irc.indymedia.org
/join #pgaeuroconf
3) Direct to the PG
A

conference chat

Before clicking the link below you should have installed one IRC program.

Click irc://irc.indymedia.org/pgaeuroconf to go directly to the chat program. Change your nick with the command /nick yournick
Notes: